Coffee Vending Machine with Guaranteed Daily Income - Bhisho
Saturday, 26 May 2018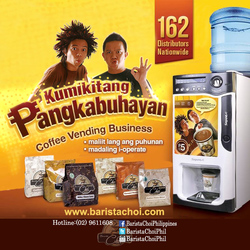 Item details
City:
Bhisho, Eastern Cape
Contacts

Barista Choi

9178070009
Item description
Guranteed Daily Income
Barista choigurantees your return of inventments in a matter of weeks. With our delicious premixed flavors packed with nutrients easily available in seconds, you'll be filling your pockets in no time. Did you know that coffee is one of the most popular beverage in the world? That Coffee is the second most traded commodity also in the world. Here in the Philippines
According to the Daily inquirer Riza T. Olchondra
Demand for coffee is rising, mostly because of availability of a wide variety of instant coffee and instant coffee mixes, The total demand for coffee in the country has reached upwards of 100,000 metric tons green bean equivalent, up from just about 75,000 tons two years ago, according to the Philippine Coffee Board Inc. (PCBI). The group attributed this to instant coffee and related mixes becoming staple drinks of an "increasingly 24/7 workforce.""But we project an increase in roast and ground coffee, too, of about 5 percent annually," or about 5,000 tons.
The demand for coffee is being anticipated not just by us but the industry aswell. Join barista choi and get your income, daily.